Welcome to SIAL InterFOOD
WORLD No. 1 FOOD INNOVATION NETWORK
SIAL, the best world partner to support food business development and export!
For over 50 years, SIAL has been inspiring food adventures. Today, SIAL is a global brand present in 50 countries all around the world with events in 7 countries. All over the globe our network represents a forum for exchange, meetings and discussions and is truly unique. In terms of visitorship and impact, SIAL is the premier food innovation event.
Introducing new trends, helping to launch products in new territories, solving diversity, quality and safety issues...these are our motives in an ever-growing market.
INDONESIA LEADING F&B EXHIBITION
SIAL Group and Krista Exhibitions proudly present SIAL InterFOOD, the leading food and beverage exhibition in Indonesia, running for 19 years.
A collaboration between two strong powers in the food and beverage industry delivers this exciting event an exciting platform assisting food and beverage companies to breakthrough into the promising ASEAN market.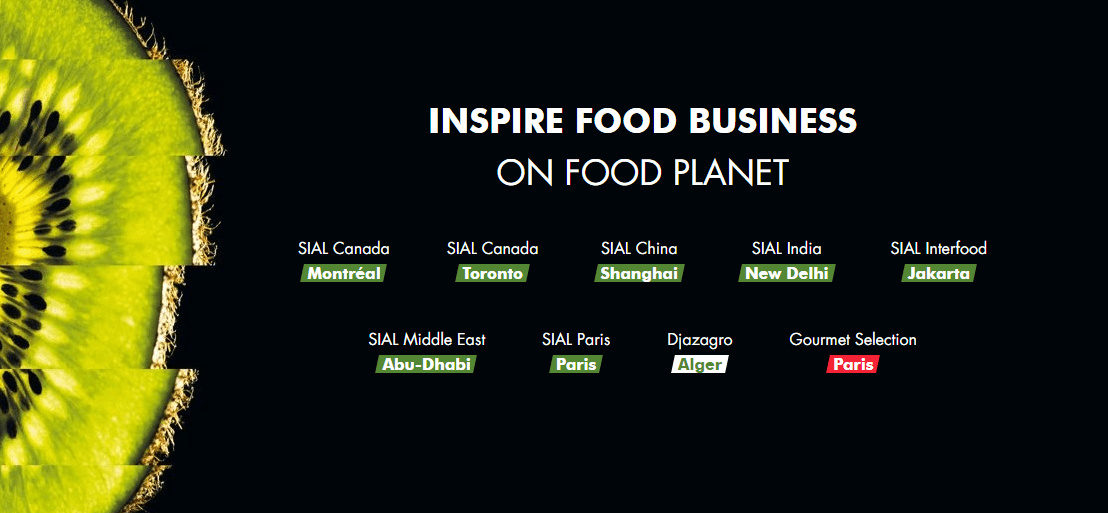 SIAL Network Schedule
8-10 September 2020, SIAL Middle East, Abu Dhabi
13-14 September 2020, Gorumet Selection, Paris
21-24 September 2020, Djazagro, Alger
28-30 September 2020, SIAL China, Shanghai
29 September-01 October 2020, SIAL Canada, Montreal
18-22 October 2020, SIAL Paris, Paris
11-14 November 2020, SIAL Interfood, Jakarta
03-05 December 2020, SIAL India, New Delhi
27-29 April 2021, SIAL Canada, Toronto